RFID Chessboard
Technology
The detection and identification of the chessmen is performed by a so called RFID technology (Radio Frequency Identification). Each chessman contains a tiny microchip, which provides a unique ID, to the board. This technology is not only very accurate and reliable, but also extremly power saving.
Hence the board does not require any external power supply, and is fully satisfied by the supply from the chess-clock, which can provide power for several hundred hours of broadcasting.
The technology provides chessman position accuracy  on a milimeter scale. A full board scan will take less than 0.15 sec depending upon the number of chessmen on the board.
Key Features:
| | |
| --- | --- |
| Inlay | Mahogany / Maple |
| Total Size |  54cm |
| Square Size |  57,5mm |
| Thickness | 17mm |
| Weigth  | ~  2,8kg |
| Power Supply | 4 AA rechargeable batteries (see chess clock section) |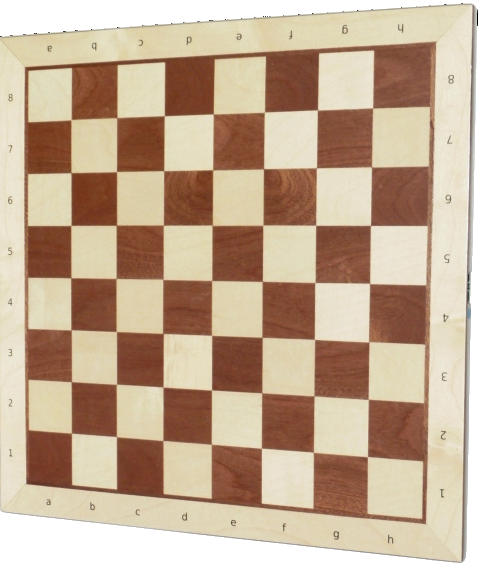 Interfaces
Clock interfaces (RJ-9) are located on boths sides of the board, so the clock can be either placed on the left side or on the right side of the board. 
A RJ-11 Interface connects to  the next board or to the controlling PC. 
Multiple boards ars connected as a row, so cabling is only requiered to the next neighbours of the board.
Each interface is equiped with 2 LEDs signalling the reset of the board and the transmission of data. This allows easy control the board functionality, which is particularly useful during the inital setup of the boards for a tournament.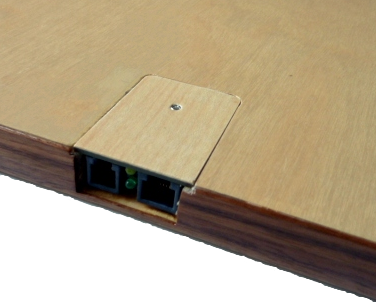 Image of the interface, placed on each side of the board.